RESERVE YOUR WILDWOOD SUMMER VACATION RENTAL
Making a reservation is not very complicated. You pretty much know what you want, how many bedrooms, baths and the location. So first you can
Once you have chosen the property you want, you can fill out the following form and submit it to us.... please don't forget to include the property address or condo name, unit number if any, and weeks desired. This information can be entered into the "comments" box an the bottom of the form.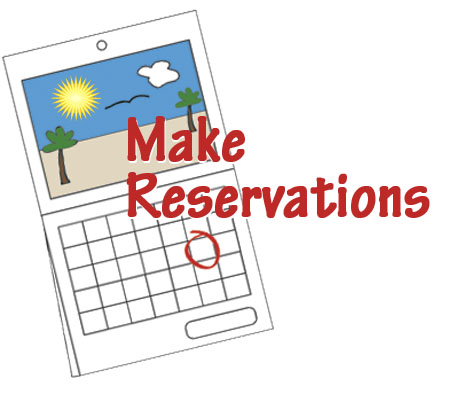 Important Note: The rental properties we represent are all privately owned and maintained, and therefore, reflect the taste of each individual owner. The decor and furnishings are subject to change. We strongly urge you to personally inspect the property of your choice to be sure that it meets your expectations and requirements before making a legally binding commitment
Please click on the "Make Reservations" logo and fill out the online form. A rental agent will contact you during normal business hours to confirm your reservation.

FOR FURTHER INFORMATION PLEASE CALL 609.522.4999 OR YOU MAY EMAIL US AT
How soon do I have to reserve my rental?
It is best to try to book your vacation rental before President's Weekend if you want beachfront or a very particular unit. You will still pretty much have your choice but by the time spring comes, the properties are not as plentiful.
Can I make a reservation without coming to see it?
It is best if you actually view the property as we cannot be responsible if you do not like it when you arrive. However, if you feel confident that the pictures you see online are satisfactory, then you can book it by e-mail , calling us (609) 522-4999.
If I do come down, where are you located?
We are located at 1701 New Jersey Avenue in North Wildwood. We are open daily.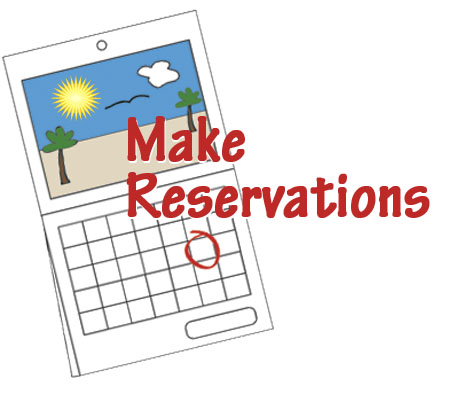 How do I go about making a reservation?
Please click on the "Make Reservations" logo above and fill out the online reservation form. Once submitted we will contact you during normal business hours. Once we have confirmed your reservation we will need a deposit on a major credit card in the amount of $150 which represents $100 towards the rental amount and a $50 non-refundable processing fee. The remaining balance is broken up into 2 installments, the last of which is due 30 days PRIOR to your arrival. The security deposit cannot be charged to a credit card.
What time is check-in and check-out?
Check in times is 2:00 PM and check-out is 10:00 AM
When I arrive, what do I need to bring with me?
You will need any additional monetary deposits, sheets and towels, beach chairs, food including staples (sugar, salt, paper products, dish detergent etc.). Each unit is unique and we try to put as much information as possible in our written leases. Some units provide beach tags but not all.
Can friends visit while we are renting?
Yes, friends and family can visit but you are restricted to the number of persons that occupy the property specified in your lease. If you exceed that number, you will be in violation of the lease. The lease will be terminated immediately with no monies being returned to you.
If I pay a security deposit, do I get it back the day I leave?
Usually the owner returns the deposit within three weeks of your check-out date unless the property was not left in the same clean condition as you received it or if there were any damages.
What happens if I make a reservation, and then I have to or want to cancel it?
Fasy Real Estate does NOT keep your deposit money. All deposits are sent to the owner with the copies of the lease. It is up to the owner to retain or release the deposit when notified of a cancellation. If he is agreeable to release it, he reserves the right to hold your deposit until he has received the deposit from another tenant. If you must cancel your reservation, notify us immediately in writing. We will then place the property on our active rental list.
If you have any other questions, please feel free to call us at any time. We are here to help you.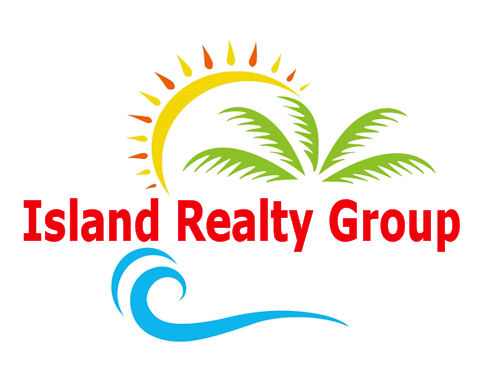 ISLAND REALTY GROUP
1701 NEW JERSEY AVENUE - NORTH WILDWOOD, NJ 08260
Office: 609.522.4999 e-Fax: 866.571.9766
OPEN DAILY 10am to 6pm